Passat HO boilers
The HO boilers are intended for burning with biofuel, i.a. wood pellets, wood chips, straw, shavings and the like.
The HO boiler is a series of solid fuel boilers that have a clean and optimal combustion that also meets the most stringent environmental requirements.
The kettle is a two-stage boiler with water-cooled wrapper.
I kedlens konvektionsdel vendes røggasserne to gange under afkølingen. Brændslet føres fra lager frem til kedlen af en snegl, blæser eller anden individuel løsning.
Here it is delivered to the cell lock. From the cell lock, the fuel of a stoker auger is passed through the boiler rear wall into a ceramic combustion hearth built of modular stone.
The combustion air is supplied with combustion air blowers through holes in the hearth wall and, together with the oxygen control, provides an optimal combustion of the flue gases.
At the bottom of the hearth is a proven advanced ash scraper system that automatically advances the fuel in the hearth so that it is optimally utilized.
Derefter skraber støbejernsskraberen asken hen til en snegl og videre ud i en mobil støvtæt askebeholder.
The HO series is a well-tested product that has so far provided warmth to institutions, industry and businesses such as schools, nurseries, carpenters, etc. throughout Denmark.
Description
Kapacitet 140 – 990 Kw
PLC Control
Possibility of flue gas cleaning with filter or cyclone
Efficiency above 88%
CO emission very low
Fuels
Straw: Minigig (PMR raiser), Bigballer (PBR-II) / (PBR-III), Round baler (PBR-III)
Tile: Wood chips Class 1-2 max 35% water content, Sawdust, Furniture chips
Wood pellets: 6 mm, 8 mm
Supplied equipment
Stoker screw
Fire fighting equipment
Ceramic stone hearth
PLC Control
Electric ignition
Stoker
The stoker supplies the boiler with fuel.
A complete stoker unit consists of cell lock, stoker auger and back fire extinguisher.
The stoker unit is connected to the boiler's water-cooled stoker input.
– Straw: 280/280 to 400/400
– Wood chips: 180/130 to 280/180
– Wood pellets: 100/100 to 180/180
Stoker screw:
To obtain optimum combustion, the HO boiler is equipped with oxygen control. This continuously adjusts the ratio between the amount of fuel and the combustion air, depending on the heat consumption. This results in an optimal environmentally friendly combustion and a high efficiency.
Fire fighting equipment:
Connect the stoker insert and connect to the water supply. At a possible back fire in the stoker auger water is sprayed on the fuel at the entrance to the combustion chamber.
HO fully automatic biofuel plants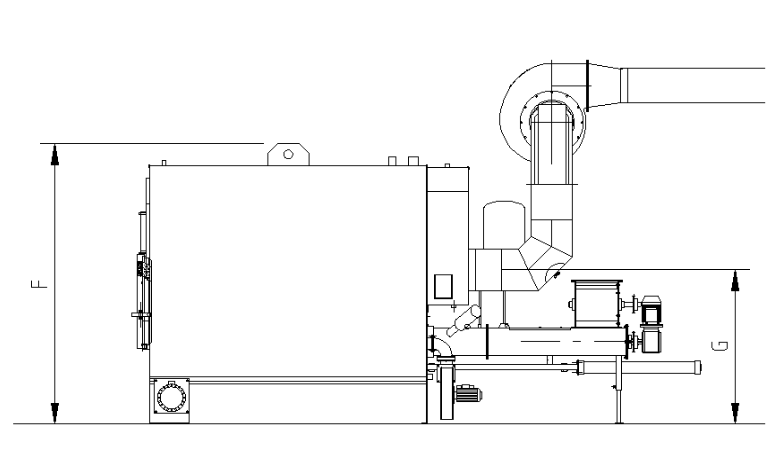 Med dette fyringsanlæg får man en fleksibel løsning med stor kapacitet. Bredden i HO-anlægget spænder fra 50 – 850 kW for proces- og boligopvarmning. Anlægget kan fyrer med halm, træpiller, korn, flis samt mange andre brændselstyper.
The HO boiler can be used for most granular and dry biofuels without extra equipment.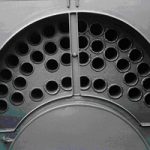 Convection system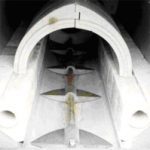 Ceramic stone hearth
Control:
The HO automatic control is based on a touch screen PLC. This type of control is very flexible in structure and adaptation, which allows for customized solutions, with control of straw straw, Ipad solution, SMS alarms etc., for example.
Soot blowing
The soot blower is located in the boiler's door and comes with associated control and compressor.
A soot blower system works with compressed air. In a fraction of a second, compressed air is blown out through a filter valve. This means that all deposits in boilers and heat exchangers are removed continuously and efficiently.
Continuous cleaning proves to be much higher efficiency and thus less fuel consumption per year. produced MW.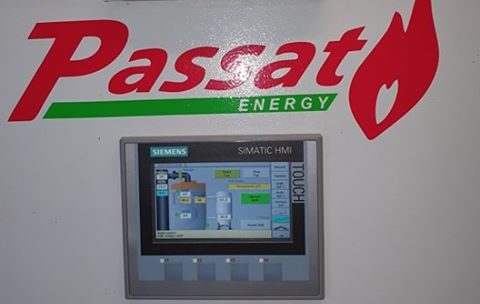 Ash removal
The automatic ash extract consists of an internal ash screw which pulls the ash out of the boiler. This auger is equipped with a powerful gearmotor so that any impact can be crushed. From the auger, the ash is run into a 210 L airtight ash barrel, located next to the boiler. As the ash runs out to the bottom of the container, the ash is compressed by the weight of the weight. This ensures optimal utilization of the barrel's capacity.
The ash socket is controlled automatically. The ash system can be adapted to local conditions with external augers and larger ash containers.
TECHNICAL DATA
Efficiency Wood pellets: 120 KW. - 990 KW.
Efficiency Straw: 20%
Wood chips: P63
Test pressure: 4 bar.
Working pressure: 2.5 bar.