Compact is a versatile Pellet
Pellet to biofuels, wood pellets, wood chips, grain and various granulates
Compact C2 – C16
Passat Compact magazine boiler is a complete unit consisting of boiler, control and magazine. Dependent on which model you choose, it can have the effect of 11kw and 199kw. The construction is completely aligned and isolated, so that heat loss is minimal.
The Compact boilers is fitted with a microprocessor that, in conjunction with an oxygen probe, ensures optimum combustion and fuel economy, at variable heat demands. The boiler fuel hopper is fitted with a sensor and nozzle, which provides water in case of backfire. In addition, it complies with all known regulations for boilers in Denmark, and it is approved in accordance with the strict requirements of the EUROPEAN UNION EN 303-5 (2013) class 5.
Compact boiler C2 – C16 can apply the most granular and dry biomass fuels, such as wood chips, wood pellets cereals and various granules.
Accessories - supplied oxygen control
For optimal combustion, the Compact boiler is fitted with oxygen control. This continuously adapts the relationship between the amount of fuel and combustion-air, depending on the heat consumption. This provides an optimum, environmentally sound combustion, and a high efficiency.
Axis outlet - soot blowing
The Soot blowing plant is located on the boiler door and comes with management and compressor. It works with compressed air to assist in all deposits in the boiler, and the heat exchanger is removed continuously and effectively
Cleaning Tool
The crank used for manual cleaning of the tube-fixture, by turning the spirals(turbulators) in the convection. An electrical drill can also be used by using fittings, instead of the crank. The ash scraper is used for emptying out the combustion chamber, when you turn off the boiler.
Installation of the Compact boiler
The efficient control of the combustion has meant that the Compact+ Bioboilers are installed with pressure expansion. The system is placed and fitted with thermostatic boiler shunt according to the regulations from Passat Energy. Otherwise, the warrantee of the Compact+ will void.
Automatic filling
Automatic filling makes sure that the manual filling, happens automatically from external silo/warehouse. The automatic feeding system for Passat Compact magazine boilers makes firing with different biofuel granules more comfortably. Brændselet transferred automatically to the magazine, when the built-in level sensor gives the signal for this. Passats automatic filling system is particularly recommended in combination with Compact Boilers with great performance, or by large heat consumption.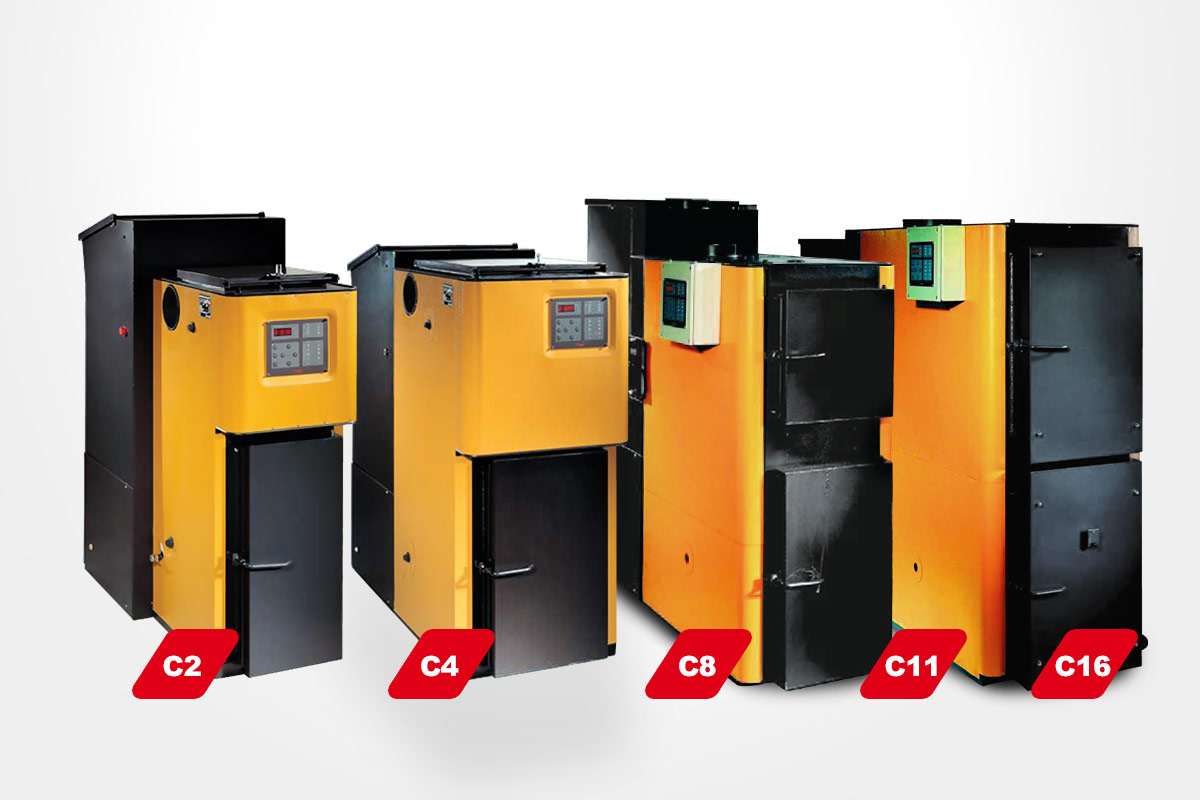 Information about C2 – C16
Compact C2 400 L
- Can modulate the operation from 6.3 kW - 23.9 kW.
- Standby Heating
- Efficiency 91%
- Is fitted as standard with oxygen control
- Firing with wood pellets in size. 6 and 8 mm.
Compact C4 400 L
– Can modulate the operation from 12,2 kw – 42,3 kw.
– Standby Heating
– Efficiency 92 %
- Is fitted as standard with oxygen control
- Firing with wood pellets in size. 6 and 8 mm.