Passat Compact+
The boiler burns functioning chute principle, and is built so that it will burn 6 and 8 mm pellets (l = 5-25mm).
Combustion takes place in a small trough at the front of the burner, which is provided with air nozzles. These air nozzles are setting and allocation is optimized to provide optimum combustion. The fuel is fed by means of the supplied screw to the top of the chute, fall from / rolling the pellets into the trough. The clear tube that connects the burner with auger serves as collateral for any. back fire. The hose must not be less than 200 mm - but preferably longer. In the burner drop tube there is mounted a temperature sensor which interrupts the burner if necessary. beginning the accumulation of material in the burner, or back fire.
Burner status shall also be monitored by a photocell that looks whether there is flame. If management has not recorded another mistake, it will try to start up again once after flame failure is registered
Compact+ series
In the burner, the highly efficient and durable igniter ensures quick lighting while the powerful photo cell monitors the combustion. The burner is door mounted which means easy access to and cleaning of the burner bowl. The set is the start/stop type which turns on and off throughout the year. The infinitely modulated control is very user friendly and ensures an efficient combustion that adapts the current need. The boiler is designed with vertical flues which help ensuring a high degree of efficiency and easy and effective cleaning of the boiler. The accompanying silo, made of recycled plastic, contains approx. 500 liters wood pellets. The practical grid that is with the silo helps to an easy filling of the wood pellets. The Compact+ set is produced in Denmark and is provided as the C1, 15kW and as the C2, 23 kW.
Compact +
Compact 1+ can modulate the operation from 4 kw - 15 kw.
Compact 1+ firing with wood pellets in size 6 and 8 mm.
We recommend that you buy wood pellets DIN approved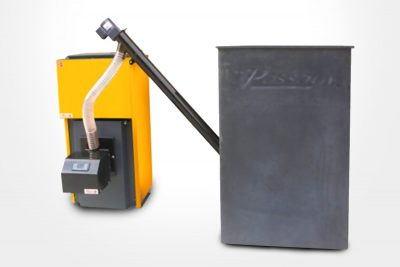 TECHNICAL DATA C1+
Power Pellets:
Smoke tube:
Water content in the boiler:
Test pressure:
Working pressure:
15 KW.
150 mm.
55 l.
4 bar.
2,5 bar.
TECHNICAL DATA C2+
Power Pellets:
Smoke tube:
Water content in the boiler:
Test pressure:
Working pressure:
20 KW.
150 mm.
60 l.
4 bar.
2,5 bar.
Manuals and Documentation